June 16, 2023
CC Display Inspector
CC Display Inspector requires:

• CC Display Mac or Windows Client Application

• CC Account with valid CC Display subscription

• A high quality monitor

• A compatible measurement Instrument
How does it work?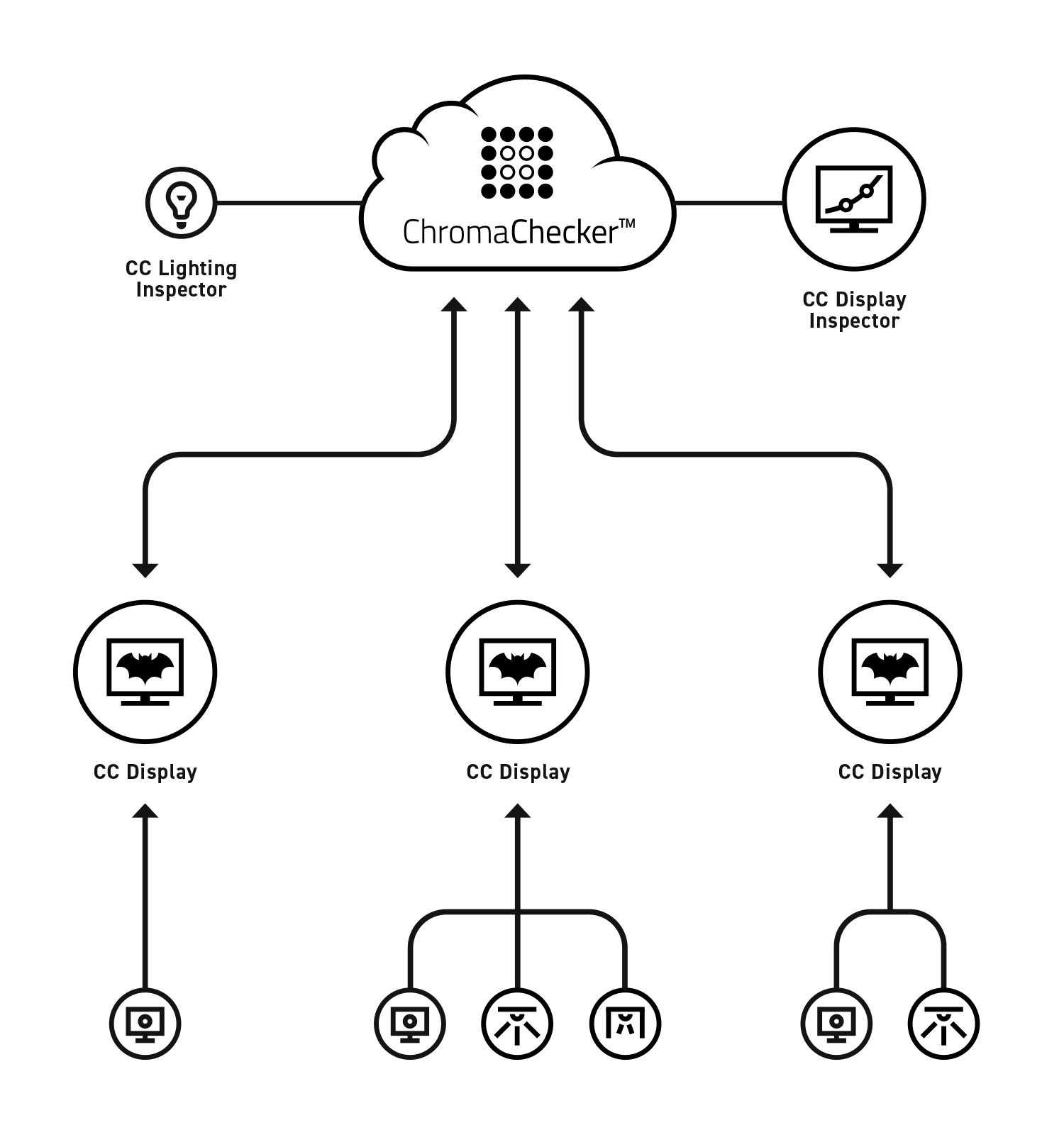 | | | | | | | |
| --- | --- | --- | --- | --- | --- | --- |
| | | Monitor equipped with the measurement instrument | | Ambient Light | | Light Booth or working space with standardized lighting. |
CC Display is designed to make it easier for the operator to properly select all settings. It prevents differences and makes it easy to track potential issues. The cloud-based solution offers some unique features and creates immediately a big picture of how displays are performing within the entire organization.

Remote display management including soft-proofing becomes much easier with the solution that has been developed with our Partners from basICColor (the bat in the icon is not by accident!)
Functions
Advanced remote calibration
Uniformity test
Gamut volume evaluation
Advanced ICC Profiling
Validation
Evaluation
Emulation
and unique correction tools:
Solution unique Benefits
Central management for a virtually unlimited workstation, locations hardware configuration
Simple interface for the Operators - workflow list synchronized with Cloud server
Single-button operation - no operator's knowledge required
Lighting: Ambient and Viewing - integrated = for more advanced analysis by other CC Inspectors
Sensor correlation with central reporting
Light booth remote control supported (require compatible hardware)
System Requirements
CC Display can run on:
Windows 10 PC Computers
Mac OS computers
An Internet connection is required - software is reading workflows from Chromachgecker Cloud - Central repository, reporting, and management tool.

Supported Monitors
Virtually most monitors on the market today can be connected, however, to get successful results we strongly recommend monitors that support extended DDC communication and hardware calibration.
There are a few critical parameters that should be checked before
Wide viewing angles.
Uniformity - non-uniform displays are useless, therefore uniformity test is critical
Gamut - technical ability to display colors should cover working color space.
Also, there are some additional recommendation
The monitor should matt, anti-glare surface
It should be able to rich expected brightness - e.g. 160 cd/m2
DDC preferred hardware calibration is highly recommended

Supported Instruments
CC Display works with most instruments on the market. From a technical point o view, we can use both colorimeters and spectrophotometers. We also have to take into account that differences between instruments may be huge, but most of them are manageable. If your organization has different models of instruments a correlation is required.
Need a trial?
You may download CC Display and use it with test credentials. Take into account that software needs a license that is computer ID-based. Once activated can be launched on one computer for a limited period only.
The regular Trial version gives you limited access to functions to check if your hardware configuration works fine. The user may calibrate monitor, check gamut, uniformity to qualify displays for profiling and more advanced features. It is also possible to get more advanced options available on request.
Quick Start - hardware/software compatibility test
You may test hardware/software/communication using test credentials for free even when not have a ChromaChecker account. Please follow the simple procedure here.
Related Topics
Contact ChromaChecker Support
Additional information and Support Form is available for logged users.